Factory direct sales 140-CIR110 DTH drill bit of low pressure
Factory direct sales 140-CIR110 DTH drill bit of low pressure
Quick Details:
Place of Origin: China
Brand Name: MSD
Certification: SGS
Model Number: 140-CIR110
Payment & Shipping Terms:
Minimum Order Quantity: 1 piece
Price: Negotiable
Packaging Details: wood package
Delivery Time: 10-25 days
Payment Terms: T/T west union L/C
Supply Ability: 5000 per month pieces per month
Contact Now
1 Impact energy: well
2 Brand: MSD
3 Product alias: DTH drilling bit
4 Drilling depth: more than 300m
5 Impact frequency: 2000-2800Hz
6 Bit size: 1400mm
7 Scope of application: Pile foundation tunnel anchor
8 Drilling speed: 500(mm/min)
Factory direct sales 140-CIR110 DTH drill bit of low pressure
We provide innovative equipment, consumables and service for Geological drilling. Whether the application is surface and underground mining, infrastructure, civil engineering, geotechnical, MSD is always increasing customers' productivity.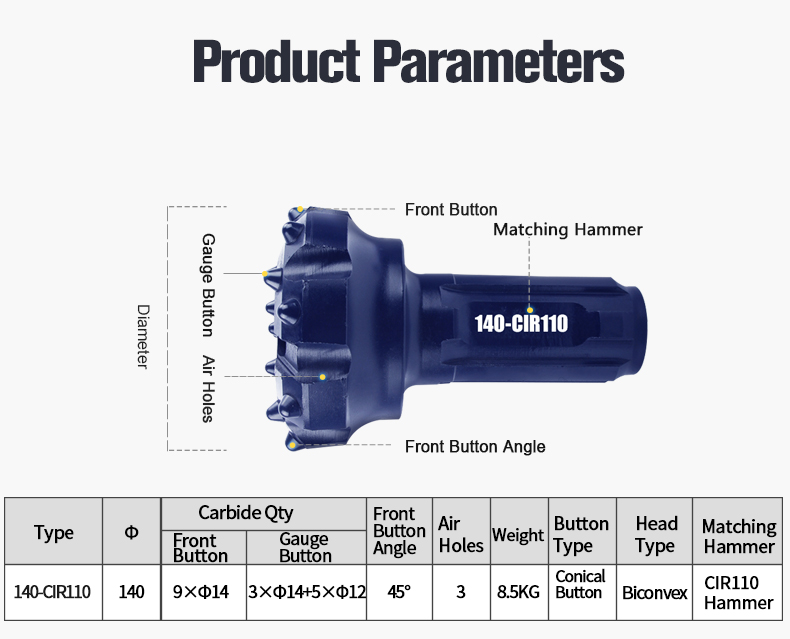 -----------------------------------FAQ---------------------------------------
Q: What about the shipment of 140-CIR110 DTH drill bit ?
A: Based on order quantity. We can send it to you by Express, by Air, by Sea, and by Train. Or send the goods to your Chinese agent.
Q: How to control the quality of 140-CIR110 DTH drill bit ?
A: We should be checking & testing everyone button bit before shipment.
Q: Do you agree sample order of 140-CIR110 DTH drill bit ?
A: Yes, we are welcome your sample order to testing our quality.
Q: Can we select the button bit color?
A: Yes, We color the product according to the color you need.
Q: Can we change to our mark on the button bit?

A: Yes, we can casting your company mark on the button bit. (Except sample order).